What drives us
We stand for a new, contemporary way of buying eyewear because we combine the advantages of e-commerce with extensive on-site services. Thanks to the consistent and innovative integration of online and offline options, we have become Europe's leading omnichannel optician with web shops in ten countries, over 40 company-owned stores in Germany and Europe, and a network of partner opticians across German-speaking Europe.
We are convinced that eyewear can be fun to buy. Thanks to a variety of simple, intuitive filters and tools, everyone can find their new pair of glasses, sunglasses, or the right contact lenses in our extensive, immediately available range and all at transparent, fair prices. Our customers buy when they want, where they want, and only order the services they really want. Because that's how you buy eyewear today.
Our promise
Our top priority is the quality of our products. For this reason, in all of our processes from purchasing to shipping, we pay close attention to care, accuracy, craftsmanship, and working with competent partners. The result is outstanding quality at affordable prices.
High-quality eyeglass frames from over 100 brands
We only sell original goods and buy eyeglass frames and contact lenses from all of the major manufacturers. In addition, our range includes our own high-quality brands at particularly attractive prices such as CO Optical, the sustainable CO brand, and an ultralight series as well as the collections designed by Michalsky for Mister Spex. Select from more than 10,000 prescription glass and sunglass frames from over 100 brands, including Ray-Ban, Calvin Klein, Prada, and Tom Ford in both our online and local shops. All frames are in stock and can therefore be delivered immediately.
Eyeglasses with quality lenses at fair prices
Quality is our top priority at Mister Spex. That's why we only use brand-name lenses. The majority of the lenses at Mister Spex are cut to your prescription and frame shape on site using the latest edging technology. Standard refinements are always included in every lens at no extra charge to the customer.
Expert craftsmanship in our in-house optician's workshop
The lenses are assembled by trained opticians in our own master workshop in Berlin. Every pair of glasses is subjected to careful quality control using the latest optical measuring devices before it is dispatched. Like any optician around the corner, we are a member of the Opticians' Guild (Berlin) and, since 2016, have also been training apprentice opticians.
Personal service and competent advice: both online and in person
Your satisfaction is one of our fundamental corporate values. Our service team includes trained opticians as well as experienced customer service teams who are on hand to support your eyewear purchase at no extra charge via our hotline, video chat, or email. A variety of intuitive and innovative online tools such as the ability to try on your new frames digitally in 3-D and our online eye test make it easy to buy eyewear online without any problems. But you can even give your new frames a free trial run: you can request to have up to four frames delivered to you so you can decide on the right model at home.
Our optical teams are available in over 40 stores throughout Germany and Europe, offering their specialist expertise for personal advice, fitting, and services in person. We also partner with over 400 local opticians in Germany, Austria, Switzerland, the Netherlands, and Sweden. Here, too, our customers can make use of such services as eye tests and adjustments to their new eyewear free of charge at any time.
100% Satisfaction Guarantee
We now have over 5 million satisfied customers across Europe. Our aim is to deliver excellent quality and outstanding service at all times. This is reflected in the top marks we have received with Trusted Shops.
And if your new eyewear isn't quite right, we will, of course, take them back and reimburse the full purchase price, even the individually cut lenses. This is our "100% satisfaction guarantee."
Who we are
Mister Spex was founded in 2007 and is now the leading omnichannel optician in Europe. Its successful business model has been awarded numerous prestigious prizes and has fundamentally changed the optical industry as a key driver of its digital transformation. In just a few years, Mister Spex has developed from a strictly online shop to a successful omnichannel player with over 5 million customers, 10 online shops in Europe, and numerous local shops all over Germany. As digital natives, technology and innovation have always played a central role in the company's development. These include 2-D and 3-D online fittings and intelligent filter functions. The aim of Mister Spex is to make the purchase of eyewear a simple and transparent shopping experience that's enjoyable.
Management Board

Management

Investors
Dirk Graber (Management Board)
Dirk Graber studied business administration in Marburg, Hong Kong, Moscow, and Leipzig. He received his degree in business administration from the Leipzig University of Applied Sciences (HHL). Before founding Mister Spex, Graber worked as a consultant for the Boston Consulting Group for several years. He gained his first e-commerce experience while still at university thanks to internships at eBay and Jamba. He also worked at KPMG and Commerzbank. As part of the Mister Spex Management Board, he is responsible in particular for the areas of business development, IT, finance & controlling, operations, and HR.
Mirko Caspar (Management Board)
Dr. Mirko Caspar Kassel, Germany, on January 21, 1972.
He studied business administration at the Westphalian Wilhelms-University of Münster. In addition, he gained his PhD in brand strategies with Professor Heribert Meffert.
Dr. Caspar worked as a management consultant with a focus on strategy, marketing and brand management at McKinsey before he took on a leadership role at Universal Music Germany. In 2006 he co-founded the virtual world company Metaversum and acted as one of the managing directors. He has also co-founded the agencies Userlutions GmbH and Caspar-Feld Marketing-Performance GmbH. Since 2011 he has been Managing Director at Mister Spex in charge of marketing, category management, product management, as well as the retail stores and international markets.
Sebastian Dehnen (CFO)
Sebastian Dehnen studied economics with a focus on strategy and international management at the Bergische Universität Wuppertal. Subsequently, he earned his doctorate while working part-time with a focus on internationalization strategies in emerging markets. Sebastian Dehnen has more than ten years of professional experience in strategic and operational financial management in an international environment, including as CFO at AutoGravity Corp. in California and as CFO and COO at the car2go Group. At Mister Spex he is responsible for the global management of the Finance and Legal departments.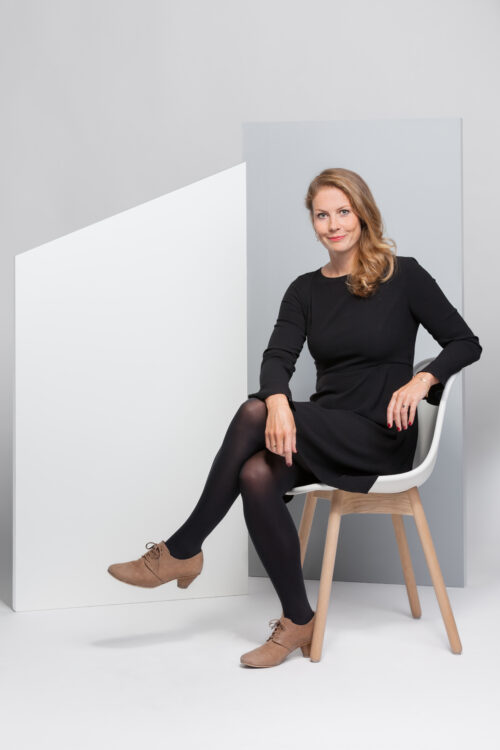 Katrin Kapteyn (CPO)
Katrin Kapteyn studied business administration and communication sciences at the Free University of Berlin and at the Ruhr University in Bochum. She gained extensive experience in the field of digital transformation, e-commerce, and online marketplaces with pioneering internet players such as eBay, Immobilienscout24, and mirapodo GmbH. Most recently, she expanded the marketing and customer experience at ubimake GmbH as its chief marketing officer. At Mister Spex, Katrin Kapteyn is responsible for the areas of product management, user experience, category management, and business intelligence.
Christian Hoya (CMO)
Christian studied business administration and business management at WHU and the University of Texas and then earned a master's in finance and accounting at the London School of Economics. After graduating, he worked as marketing director at Postal Gold before founding his own company in 2011: Wine in Black, an online shop for premium wines. He was its managing director until early 2018. At Mister Spex, his primary focus is data and customer-oriented marketing.
Tobias Streffer (CDO)
Tobias Streffer studied business administration at the universities of Münster, Lund (Sweden) and Urbana-Champaign (United States). After various internships with companies such as Brillux, Ista and Gerling, he worked as a corporate consultant in the Boston Consulting Group in Berlin, where his responsibilities included corporate development and strategy projects. At Mister Spex Tobias was in charge for the Finance & Controlling department for many years. Today, he is responsible for the Data Management & Business Intelligence and Corporate Development topics.
Stefanie Budesheim-Wels (COO)
Stefanie Budesheim-Wels studied international business administration at the HTW Aalen and the Newcastle Business School. After internships at Ernst & Young in Shanghai and New York, among others, she worked in strategic purchasing and expanding the product range of the internet company Spreadshirt and then as leader of its operations business unit. At Mister Spex, she is the COO and responsible for operations and purchasing.
Karl Pitrich (CTO)
As CTO, Karl Pitrich is responsible for IT at Mister Spex. He has more than 20 years of strategic and operational experience in software product development, e-commerce and agile organizations. Prior to Mister Spex, he was Expert Associate Partner at McKinsey Digital in EMEA, focussing on digital business building and agile transformation. With his past as CTO, founder and engineering leader, he is a mentor in his areas of expertise and a coach for topics such as agile operating models and scaling. He studied computer sciences at the University of Kent at Canterbury and completed numerous agile trainings.
Maren Kroll (CHRO)
As Chief Human Resources Officer at Mister Spex, Maren Kroll manages the company's human resources globally. She studied psychology with a focus on organisational psychology and business administration at the Technical University of Berlin and then completed a course of study in HR management at the SGD Business School. Important professional positions before Mister Spex included Vice President for HR at Harry's Inc. and Head of Business Partnering Technology and People Development and Employer Branding at Zalando. Before that, she lived in Australia for seven years and held various HR management positions at EnergyAustralia.
Carsten Hennig (Vice President International)
As Vice President International, Carsten Hennig and his team coordinate and control the activities for all international markets including the company's Scandinavian subsidiaries. The focus is on planning and the implementation of the growth strategy. Carsten Hennig studied business and economics at the University of Frankfurt and the City University of Hong Kong before starting his professional career in 2009 as a management consultant with the Boston Consulting Group. His focus there was on international corporate mergers and joint ventures as well as growth, investment, and portfolio strategies.
Katharina Berlet (Vice President Public Relations)
Katharina Berlet studied communication and politics at the University of Münster and the University of Kristiansand (Norway). Before joining Mister Spex in 2015, she worked for many years as a strategic communication and brand consultant for various international full-service agencies. In her position as Unit Director for PR & Social Media, she was responsible for public relations for clients such as P&G, Campari, and Ferrero. She is now head of corporate communications for Mister Spex.
Jens Peter Klatt (Vice President Retail)
After studying business administration in Wuppertal, Jens Peter Klatt worked with various medium-sized wholesalers and retailers in northern Germany before going into business for himself. Among other things, he was a Checkpoint Systems franchise partner. As Managing Director of the German branch of eyes + more, he was responsible for the company's expansion in Germany and Austria until 2014. Since 2015, he has been responsible for all offline activities of the company at Mister Spex and, as Vice President for Retail, he is primarily dedicated to expanding the company's steadily growing sales organisation.
Nils Vortmann (Vice President Omnichannel Excellence)
As Vice President for Omnichannel Excellence, Nils Vortmann's focus is on internal strategic control and the even closer integration of the online and offline sales channels at Mister Spex. Together with management and the entire company, he and his department are driving expansion forward while integrating into the core business. Nils Vortmann has extensive professional experience in the retail and consumer sector, including as principal in Oliver Wyman's Retail & Consumer Goods Practice. In 2010, he graduated with a degree in industrial engineering from the Technical University of Berlin. He also completed his MBA at Salisbury University (Maryland).
Scottish Equity Partners
Scottish Equity Partners (SEP) is one of the largest and most experienced venture capital teams in Europe. Since 1991, SEP has invested in over 150 companies, many of which are now successful worldwide. In addition to its investment interest, a partnership with SEP also includes building a close relationship with management and providing advice. The company focuses on venture capital investments in companies in the IT, healthcare, and energy sectors.
More information about Scottish Equity Partners is available at www.sep.co.uk
Goldman Sachs
With over 150 years of history and annual revenues of around $34 billion, Goldman Sachs is one of the best-known investment banks in the world. Goldman Sachs' Merchant Banking Division (MDB) has made more than $140 billion in long-term investments since 1986. With eight branches in six countries around the world, MBD is one of the largest managers of private capital worldwide and offers extensive expertise and long-standing relationships with companies, investors, companies, and financial institutions around the world.
Learn more about Goldman Sachs at http://www.goldmansachs.com
Büll Family Office
The Büll Family Office is a single-family office based in Hamburg. Its investment activities focus on real estate development, climate-smart control of real estate, renewables, growth financing for start-ups, and venture capital.
Grazia Equity
Grazia, based in Stuttgart, has supported a large number of mostly young companies, helping them move from the initial idea to the IPO or sale. Unlike typical venture capital companies, Grazia mainly works with its own capital. The resulting advantages benefit the companies in its portfolio. This includes independence, understanding of the situation, as well as quick and pragmatic decisions.
Grazia invests between a few hundred thousand and several million euros per investment, primarily in Germany and Europe and as a co-investor in selected situations also in the USA. The company has successfully weathered two major financial market crises and has shown that it is not just good at surfing the waves when the weather is good. Fairness, empathy, and passion are essential values in everyday life.
Learn more about Equity at www.grazia.com
XAnge
XAnge is a European venture capital company that was founded in 2003 and specialises in "digital connectivity." In addition to the main investor, the French La Poste Group, leading companies such as Alten (technology partner), Deloitte, Laser-Cofinoga (Galeries Lafayette Group/BNPP), and Neopost as well as institutional investors such as Allianz France, GMF, CDC, and CNP helped start the company. In 2004, XAnge took over the venture capital division of ABN Amro France and founded XAnge Private Equity with La Banque Postale as its main shareholder. XAnge conducts its business in Germany from its base in Munich and benefits from a strategic partnership with DVC, Deutsche Bank Group.
Learn more about XAnge at www.xange.fr
DN Capital
DN Capital is a venture and growth capital investor specialising in media, technology, and e-commerce companies based in London and Palo Alto. The aim is to identify and invest in digital media and technology companies with global market leadership potential and offer active management support. The companies have included Shazam Entertainment, Apsmart (sold to Thomson Reuters), Endeca Technologies (sold to Oracle), Datanomic (sold to Oracle), Eyeka, Performance Horizon, JacobsRimell (sold to Amdocs), Mister Spex, OLX (sold to Naspers), Airsense Wireless, MPME, Apsalar, Tbricks, and windeln.de. The specialists from DN Capital have over 50 years' experience in private equity investments.
Learn more about DN Capital at www.dncapital.com
Co-Investor
The Co-Investor Group is an investment company that has been making direct investments in medium-sized growth companies in German-speaking countries for 19 years. It has offices in Zurich, Frankfurt am Main, and Berlin. The investment team builds on a wealth of experience from over 65 corporate investments. It currently manages eleven active holdings in different sectors. Its most recent exits have included Euroimmun (sold to US laboratory specialist PerkinElmer), casual food (gradual sale to Swiss company Orior AG), and Amicra (sold to Asian machine manufacturer ASM Pacific Technology Ltd.).
The Co-Investor Group consists of Co-Investor AG, Zurich and its three wholly-owned subsidiaries, Co-Investor Deutschland GmbH, EVP Capital Management AG, and Co-Investor Financial Services GmbH, based in Frankfurt am Main.
Learn more about Co-Investor at https://www.co-investor.com/
High-Tech Gründerfonds
High-Tech Gründerfonds invests venture capital in young, promising technology companies, which convert research results into business opportunities. The seed financing helps carry the start-ups from R&D to the production of a prototype, a proof of concept, and/or market launch. High-Tech Gründerfonds initially invests an amount of EUR 500,000 and can invest up to a combined total of two million Euros per company in subsequent financing rounds. Investors of the public-private partnership are the Federal Ministry of Economics and Technology, the KfW banking group, and eighteen private corporations: ALTANA, BASF, B. Braun, Robert Bosch, CEWE, Daimler, Deutsche Post DHL, Deutsche Telekom, Evonik, Lanxess, media + more venture Beteiligungs GmbH & Co. KG, METRO, Qiagen, RWE Innogy, SAP, Tengelmann, and Carl Zeiss. The High-Tech Gründerfonds has a funding volume of around €573.5 million (€272 million in Fund I and €301.5 million in Fund II).
Learn more about High-Tech-Gründerfonds at www.high-tech-gruenderfonds.de